<!***** by Brian J. Won /laautoshow2004 last updated 13 January 2004, v0.1 *****!>

2004 Los Angeles Auto Show
return to brian1.net

Seriously, there's so much machinery there... it's hard for me to pick out a favorite. Car geeks seeking out high performance vehicles can find 'em from $20k to $600k and just about everything in between; no longer does a lot of power and huge brakes stand out.

Four exhibit halls:
two main ones, with GM having approximately 1/6th of the floor space (!). Ford, Mazda, Chrysler, Jaguar, Nissan, Infiniti, Saab, Suzuki, Subaru, etc. etc. were all there.
one small one, for Porsche. Carrera GT. Mmm. Purdy...
one medium one for tuners and the aftermarket. So many bloody exotics in this hall, it wasn't even funny...
My friends and I covered it in about 4 hours, and we missed quite a bit of stuff as the crowd got pretty bad. The pictures from the first main hall (which we visited around 12:30) hence are pretty lousy for some of the more popular cars there.
A few bits of what we saw:
Porsche: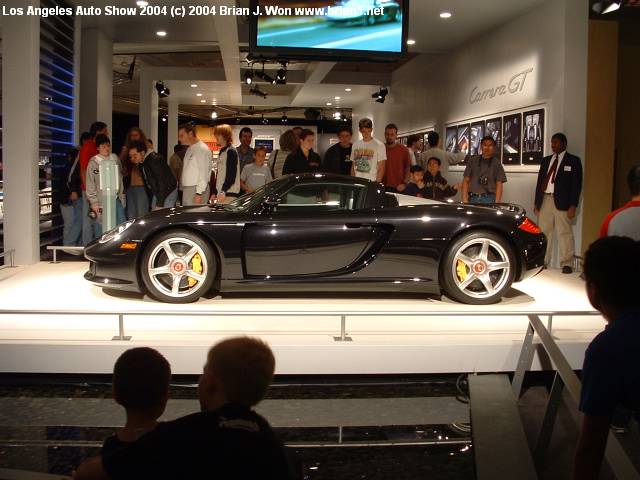 They set a very museum-like mood in their own little hall, with a pretty decent variety of Porsche being represented. The Carrera GT and the Cayennes probably got the most attention; after looking over the Cayennes, they're nice, but that's about all I have to say... many 911's, one racecar, that was about it for the rest...
Mazda:

The Protege 3 was the highlight for them. I didn't spend too much time looking at them (unfortunately!!) but for small cars they look pretty well screwed together. Interior quality is a real question that I wish I had answered, though. They had a Mazda3 touring car there on a lift, too.
Jaguar: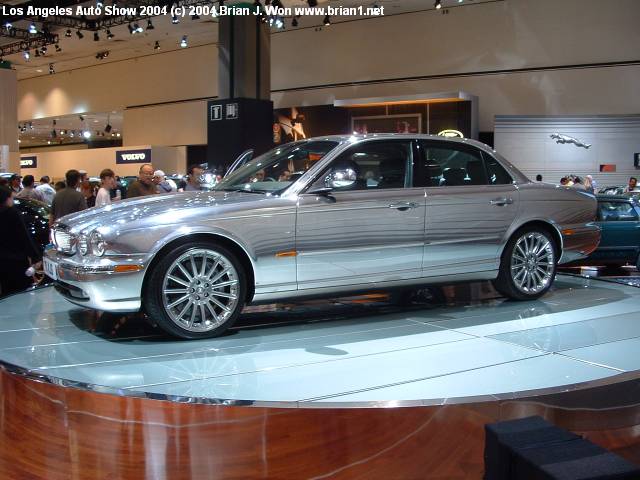 I don't know what's up with the all-chrome show cars, but I've seen them from Audi, Mercedes, and now Jaguar. Sheesh. Nothing too new here; although I wonder why they offer backseats in some of their cars (most automakers actually made me question this)-- lots of high end makers including Jaguar do sporty cars with a vestigal backseat-- what's the point? I kinda-understand, but if your guests have to have no legs to fit, then just call it a package shelf.
Aston Martin:

Not too much to say. Beautiful looking cars, but not something I'd want to own... (not right now, anyway!)
Volvo: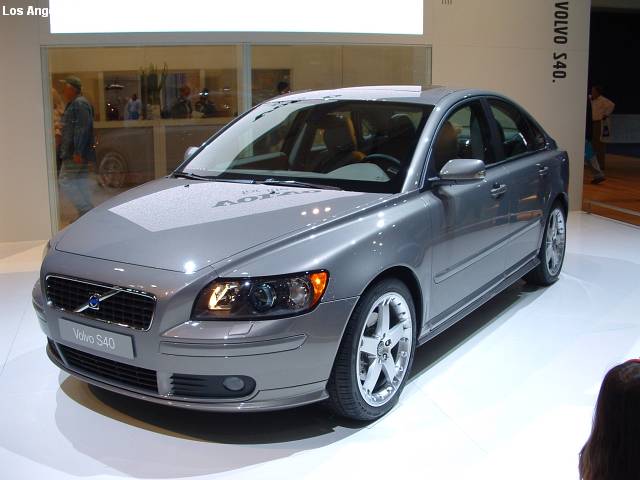 The new S40 is a HUGE improvement over the old ones. Sadly, I was distracted by the EVOLVE-modified cars Volvo had on display, the EVOLVE S60 had outrageous 15" brakes with a 10-piston dual caliper setup. *drool*
Ford:

Mustang was their highlight. I like the GT much better than the V6, due to the presence of additional driving lights on the front and the splash of chrome on the back from the "GT" badge. I'm not a fan of the Mustang in particular, but this is one of the first retro designs that doesn't look bad in my eyes.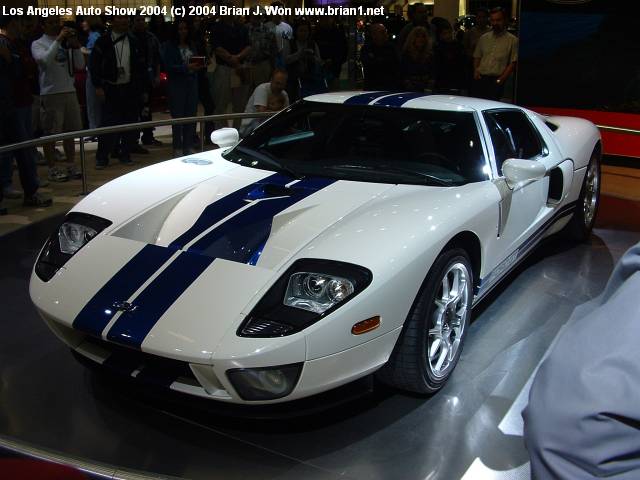 Ironically I was less impressed by the Ford GT than I thought I would be-- probably due to massive press coverage. Looks like it'll be an impressive vehicle, though. Ford also had their truck lineup there, and it looked very solid as usual.

Infiniti:

The QX56 is huge. Sheesh. We couldn't sit in it... so I don't know about the interior. Hopefully it's nicer than the G35 and BMW X3... (both of which have horrid, cheap interiors)
Nissan:

The Titan looks pretty impressive as well. I was pleasantly surprised. The interior is typical Renault-ified Nissan though, which is sucky... but admittedly, not too horrible this time around.
Mercedes-Benz:

The Vision CLS was their highlight. It had an incredible all-ivory-leather interior. OMG. *drool* It looked a little bit too stylized for me though... the proportions didn't quite "sit" right with me.
Maybach: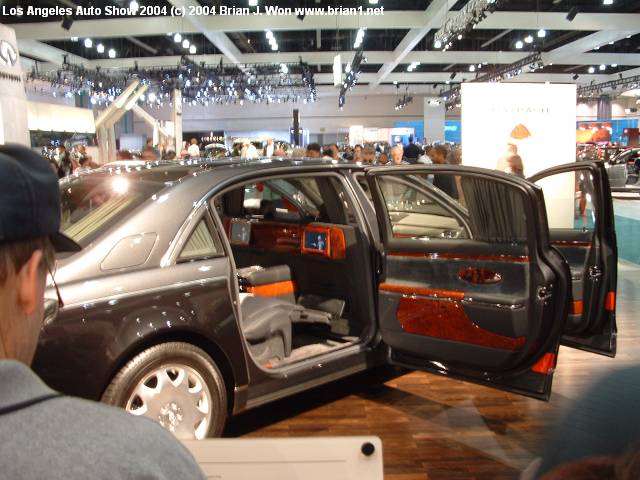 I've seen Maybachs on the streets in Los Angeles, but they all must have been the 57. The 62 is HUGE as well. Check out the back seat in that pic. Freakin' nuts, there's more room back there than there is in most people's living rooms...
Chrysler:

The 300C, the Pacifica, the Magnum, etc... very large, very striking vehicles. These aren't little cars, they're ALL huge... again not my style. The American market, if it is leaning away from monster SUVs, is now leaning towards monster cars.
Saleen: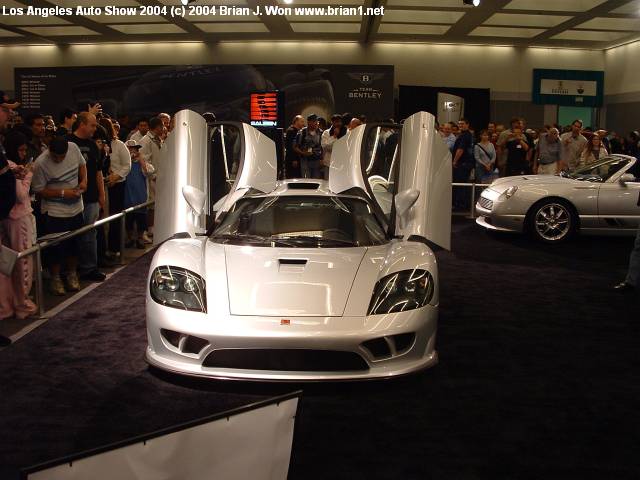 The S7 looks better in person than it does in pictures, the 50-something vents on it don't look quite as odd...
Lotus: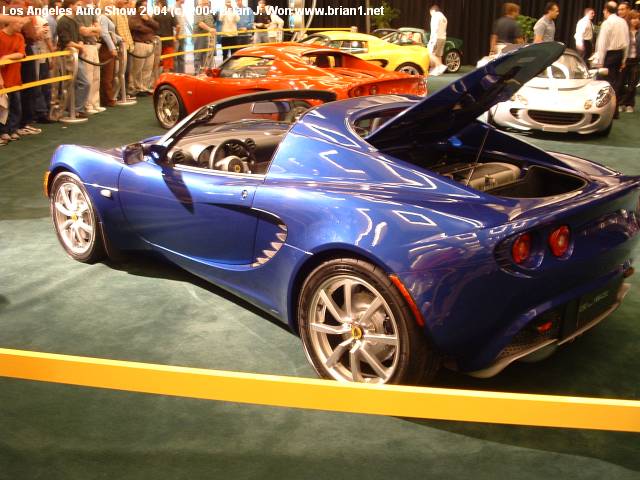 It looks a lot bigger in pictures. I've seen a Euro-spec one before, and it looked smaller. *shrug* Again, we couldn't sit in them-- that would have given me a much more detailed impression about the car.
Acura:

TL and TSX were their highlights. The TL with factory "A-spec" parts looked pretty good. I still don't like the back-end of the TL or TSX though. The TL A-Spec concept is ugly-- toooo overdone.
VW: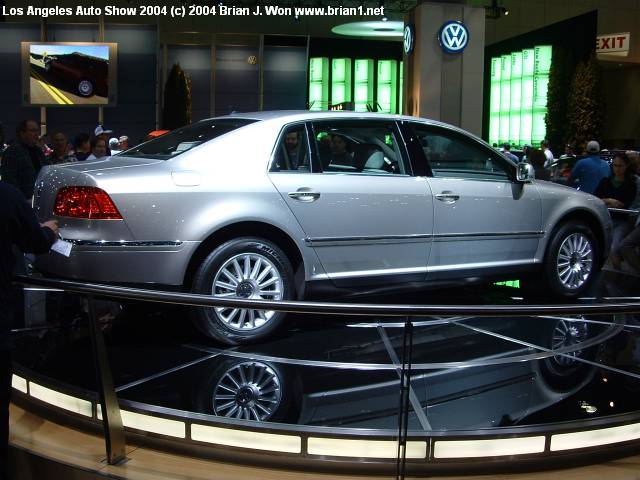 The Phaeton. Looks nice, but I can't imagine paying that much money for a VW, even if it is a lot of VW. I'll take an A8L, thankyouverymuch.
BMW:
The X3 sucked. It's 95% of the X5, but with a horrible, cheap, plastic interior. The 645i was swarmed, very popular (hence no pics!). Looks nice inside, but it's got a package shelf for a backseat. I think a Porsche 911 has a more usable backseat than a 645. (aka, WHY?) New 5-series... meh. I don't care for it.
Audi: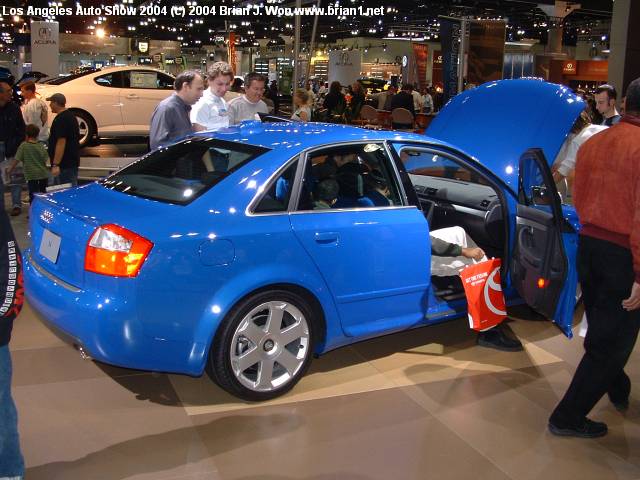 Nothing really noteworthy. A8 is a beautiful car, but it didn't stand out. The S4 with the V8... man, the V8 is CRAMMED in there. I thought the 2.7T was bad, the V8 is worse! The Audi TT's 3.2L V6 is CRAMMED in there too!
Toyota:

Scion's new tC... actually looks pretty decent compared to the other, ass-box-weird Scions. Then I saw the specs. 160hp and somehow it weighed an elephant-like
3000lb! Nevermind, it's a heavy POS... in other Toyota news, the Prius and Corolla XRS looked pretty decent. The Corolla XRS is still fundamentally bland and boring, but it finally has some go.
Cadillac: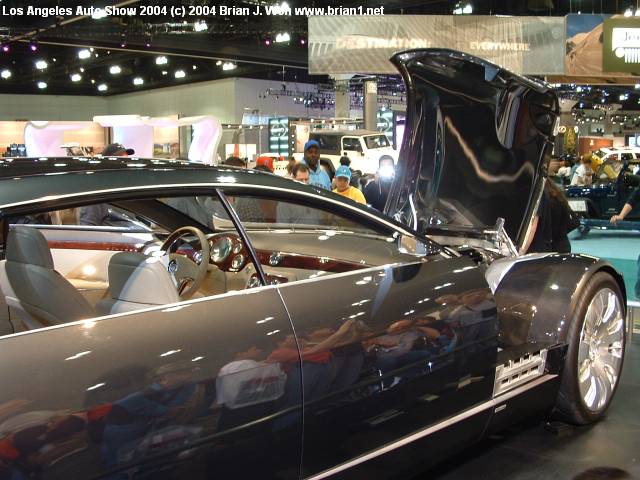 They were swarmed by the time my friends and I got there. The CTS-V, SLR, and Sixteen were all big hits. The Sixteen in particular is huge. Like, long... miles and miles long. Very striking car. The SLR isn't nearly as striking, but it looks to be about the same size as the CTS-V... the CTS-V looks pretty good, but again it's a design that many don't like. (I'm not that big a fan, but at least it has performance to match...)
Hummer:

Swarmed too, they had the H3 truck there. *snore* Sure is ugly.
Saturn:

They had this CVT cutaway there, which was cool. Their new minivan, OTOH, looks like ass. (says this Saturn owner...) The ION Redline looks like an underperformer despite its relatively decent specs.
Saab:

New 9-2X was the only big thing. It's a WRX. It doesn't even pretend to be a Saab aside from the 2-tone leather and the Saab front end. The rest of the car is a straight WRX with very little to disguse its roots. I hope the interior is at least decent...
Chevrolet:

Apologies for the lack of C6 pictures, but it was MOBBED with people!! Very evolutionary, looks good, the front end looks more aggressive than the C5, the backend looks more conservative (by a tad) than the C5. I await the Z06 version, hopefully with the CTS-V's Brembo brakes...
The Cobalt and some other cars were there too. The Cobalt looks surprisingly decent, it's the build quality that we worry about. They had the Aveo there (from Daewoo)- don't buy one. Utter shit.
One other thing:

Mazda had a Miata coupe imported from Japan in the tuner hall. Very cool, if a little odd looking.
Other makes:
I readily admit we didn't cover the entire show, but we tried...
Ferrari: nothing new.
Honda: nothing new. *snore*
Jeep: nothing new.
Lamborghini: nothing new. The Gallardo looks like a minature Murcielago. That's it.
Land Rover: had a cool booth with a Discovery (or was it a Freelander?) climbing over bumps.
Lexus: nothing new. The Rod Millen IS430 was there, but it's really not THAT much to look at. Now if it hits
production then it's a whole 'nother story. =D
Morgan: not my style of cars, but their construction technique (aluminum tub, like Lotus) looked impressive.
Panoz: very hands on, you could touch all the cars. Nothing new and striking though.
Pontiac: skipped them, nothing remarkable.
Subaru: nothing new. I'm awaiting the new Legacy.
Suzuki: the Verona (?) wasn't bad, but that's it. Blah.
All images (c) 2003 Brian J. Won (homepage). vq30de.net and brian1.net are property of Brian J. Won. VQ30DE is Nissan's engine designation for their all-aluminum 3.0L gasoline DOHC engine. No infringement or misuse of the VQ30DE designation is intended.
This site hosted by